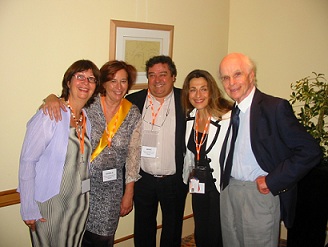 To see the list of testimonials please Click Here
To see the list of past conferences and events please Click Here

Laughter Yoga for All


I have had the privilege of introducing the life-changing concept of Laughter Yoga to a wide range of groups, organizations, and individuals.

I have worked with people of all ages, abilities, cultures, and conditions who all had in common the insight to try a fun and effective way to enhance their wellbeing and quality of life.

I have had the privilege of working with CEOs, managers, professionals, workers, and volunteers who:
care enough to invest in their team members' wellbeing and their own
wish to introduce healthy, balanced lifestyles into their personal and professional lives, organizations, and communities
are keen to improve productivity in an innovative and scientifically-proven manner
I am infinitely grateful to all of them for choosing me as their wellbeing partner.

Past and Current Clients
The following is a sample of past and current clients::
Government (Federal, Provincial)
Statistics Canada
Canada Revenue Agency
Communications Security Establishment
Citizenship and Immigration Canada
National Gallery of Canada
National Research Council Canada (NRC)
CLSC Côte des Neiges, Montréal, QC
Human Resources and Skills Development Canada
CSSS de la Pointe de l'Île, QC
Canadian International Development Agency
Canadian Heritage
Office of the Auditor General of Canada
Canadian Intergovernmental Conference Secretariat


Non-profit Organizations
Ottawa Leadership
Académie des retraités de l'Outaouais, Gatineau
Andrew Fleck Child Care Services, Ottawa, ON
Home Child Care, Ottawa, ON
Global Child Care, Ottawa, ON
Association des art-thérapeutes du Québec, Montréal
Association "La Joie de parler", Gatineau, QC
Association pour l'intégration sociale d'Ottawa, ON
Mood Disorder Association, Ottawa, ON
Otttawa Muslim Women's Organization
Amethyst Women's Addiction Centre, Ottawa, ON
Tri-County Addiction Services, Smith Falls, ON
Centre Carmen, Gatineau, QC
Toastmasters International
IWSO - Immigrant Women Services, Ottawa, ON
RÉFAP - Réseau des femmes d'affaires et professionnelles de l'Outaouais, Gatineau, QC
Horizon Renaissance, Ottawa, ON
OCISO - Ottawa Community Immigrant Services
Ottawa Alumnae Club
SASC - The Sexual Assault Support Centre of Ottawa
My Camp - Youth Summer Camp
Tyendinaga Home Support Program, Deseronto, ON
Fondation québécoise du cancer
Alzheimer Society, Montreal, QC
Retraite en action, Ottawa, ON
Rendez-vous des ainés francophones d'Ottawa
Family Services, Ottawa, ON
Rotary Club, Hull, QC
Youth Services Bureau of Ottawa
ICF International Coach Federation
The Council on Aging of Ottawa
Ottawa Regional Cancer Foundation - Maplesoft Center, Ottawa, ON
Overbrook-Forbes Community Resource Center Ottawa,ON
Saint Elizabeth Health Care, Ottawa, ON
RGA - Regroupement Des Gens D'Affaires De La Capitale Nationale, Ottawa, ON
Royal College Of Physicians And Surgeons Of Canada, Ottawa, ON
Centretown Community Health Center Ottawa
Canadian Counselling and Psychotherapy Association, Ottawa, ON
CHEO - Roger's House, Ottawa, ON

Major Corporations
CTV
Desjardins Groupe d'Assurances Générales
Mary Kay
Small and Medium Business
Ananda Communications, Ottawa, ON
Global Wellness, Ottawa, ON
Synergie Leadership, Ottawa, ON
Yoga & Tea Studio, Carp, ON
Adi Shakti Yoga Centre, Orleans, ON
Rama Lotus Yoga Centre, Ottawa, ON
Elgin Massage Therapy Clinic, Ottawa, ON


Schools, Day care Centers and Universities
UQO - Université du Québec en Outaouais, Gatineau, QC
Ottawa University
La Cité Collégiale, Ottawa, ON
École Franco Jeunesse, Ottawa, ON
Lycée Claudel, Ottawa, ON
École Secondaire Publique De La Salle, Ottawa, ON
Immaculata High School, Ottawa, ON
Early Learning Child Care Centre, Ottawa, ON
Hunt Club Park Kindergarten School Age Program, Ottawa, ON
South Keys Kindergarten School Age program, Ottawa, ON
Banting CCC, Stittsville, ON
Algonquin College, Ottawa, ON
Ottawa-Carleton District School Board,Ottawa, ON
Glebe Collegiate Institute, Ottawa, ON


Retirement Homes
Queenswood Residence, Orleans, ON
Stonehaven Manor, Kanata, ON
Maimonides Geriatric Centre, Montréal, QC
Résidence Le Symbiose, Montréal, QC
Résidence Les Terrasses Versailles, Montréal, QC
St Joseph Manor, Orléans, ON